7 Tips for Stylish & Dog-Friendly Home Décor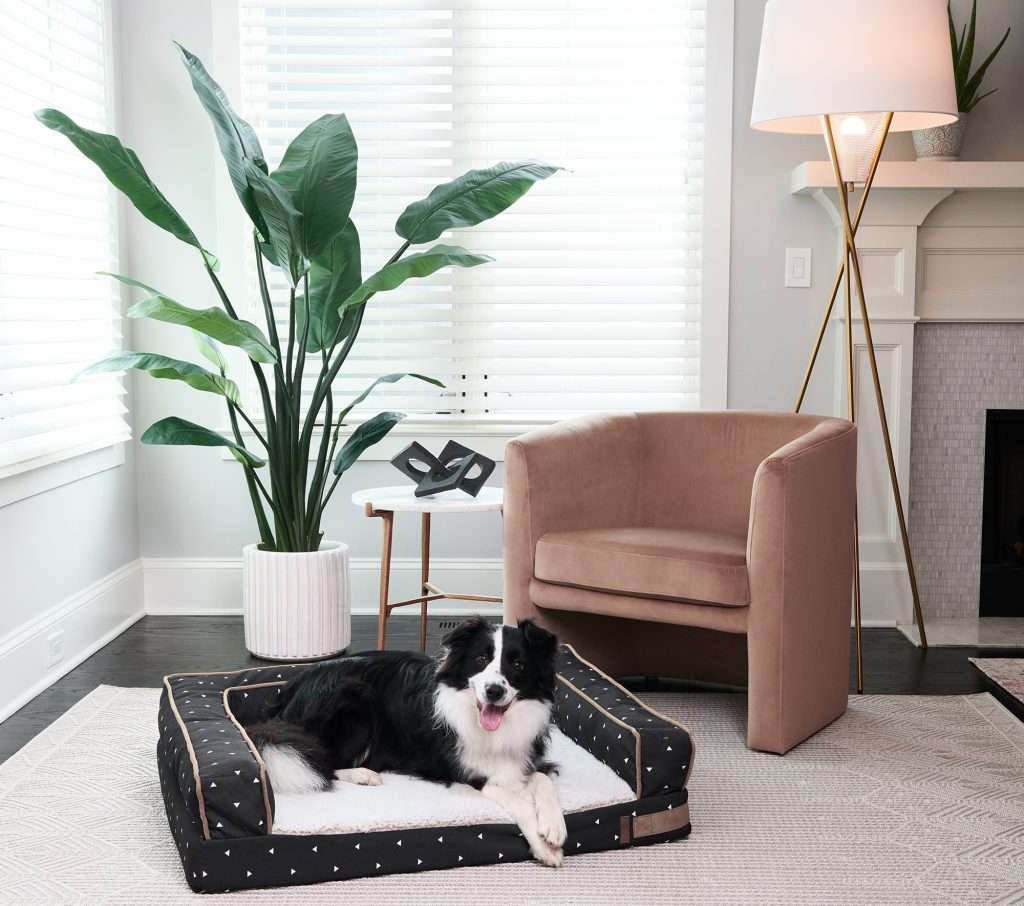 It may seem like a daunting task to own both a dog and an aesthetically pleasing home. Between hair, chewed furniture, smells and scattered toys, the Pinterest-board home of your dreams might feel just out of reach. The good news is that by designing your home with your dog's needs in mind, these do not have to be mutually exclusive and you can achieve home harmony. Here are a few of our favorite tips for finding the perfect Fido-approved stylish & dog-friendly home décor:
1. Pick the right upholstery for your couch and other décor.
Certain fabrics are naturally better suited for pets. When shopping for any upholstered item:
Skip: fabrics like velvet, velour, and corduroy, which pet hair easily clings to. Also skip out on delicate fabrics like silk or satin, which can be easily damaged. Loose-weave woven materials can also be easily snagged by claws.
Opt for: synthetic fabrics like microsuede and microfiber, which are known for their durability. If you're looking for a natural fabric, leather or canvas are great options.
 Other tips: Typically, it is best to avoid light-colored fabrics when shopping for pet-friendly furniture, as they show stains more easily. Avoid white or cream, and instead, choose something darker. A good rule of thumb is to match your couch and other upholstered furniture to your pet's hair color!
2. Find a good vacuum – you'll be using it a lot.
Shedding is inevitable for most dogs, which means that a large percentage of dog owners will be frequently vacuuming their homes. Daily vacuuming is recommended during particularly bad bouts of shedding, to prevent odors from forming. Purchasing a good vacuum specifically designed to combat pet hair is a great investment in keeping your home clean and odor-free.
4. Skip carpet and rugs altogether or find washable options.
Carpet and rugs easily trap hair, odors & any accidents (hardwood floors tend to stain and scratch easily and should also be avoided). Durable floors like laminate, concrete, and ceramic tile are a much better option for pets. If you're looking to add some softness to your space, machine-washable rugs are a great low-maintenance option for pet owners.
3. Keep your dog groomed.
Regular bathing and brushing of your dog will get rid of a lot of the loose hair that can end up on your floor, couch, and other areas. Trimming your dog's nails regularly will also help prevent scratches on your floor and snags in your couch cushions. We love a #selfcare moment.
5. Make sure your dog is well exercised.
Your dog being bored can lead to destructive behaviors including chewing on furniture. Daily walks and playtime can help work out some of that energy, which may just help save your couch. In the same token…
6. Toys don't have to be an eyesore.
To help occupy your dog and stimulate them, have plenty of toys accessible! This is particularly important for teething puppies to prevent chewing on furniture. You may be hesitant to have dog toys handy throughout your home, as they can oftentimes be quite unattractive and clash with your home décor. The good news is there are plenty of toy options that don't sacrifice aesthetics – like these. Finding a centralized location in each room for toy storage is a great way to keep scattered toys from cluttering your home.
7. Find a dog bed that you don't have to hide when company comes over.
Giving your dog their own comfortable space in your home is essential. But comfort and durability don't have to come at the sacrifice of style. Find a bed that blends seamlessly with the rest of your décor. It seems like a no-brainer, but choose modern beds to fit in with modern décor, and traditional beds to blend with more traditional spaces. When in doubt, neutral beds like this gorgeous beige houndstooth bed or this linen cream bed are a great option to match multiple décor styles. Bark & slumber has options to fit every home aesthetic; shop some of our favorites on Amazon here.